Serenity Rehab Thailand in Chiang Rai
This is an inpatient, substance addiction treatment centre in Chiang Rai, Northern Thailand. Serenity's programmes begin with a 4 week primary care package. Most clients stay on for a subsequent 4, 6, or 8 week secondary care programme. The focus is on treating substance misuse and addiction, so that clients clearly understand the underlying causes, and develop a set of skills to enable them to live a full life, free from substance dependence.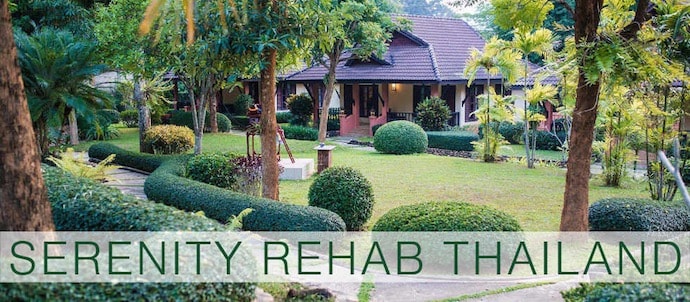 Copyright (C) Serenity Rehab. All rights reserved. Used with permission.
The Medical Director is a licensed and practising Medical doctor with a specialisation in addiction treatment, who provides outpatient detox care to our clients. On occasion, inpatient medical care is needed, and the nearby local private hospital
The founder and all of the counselors are themselves recovering addicts and alcoholics, and understand what the clients are going through, along with certification and years of experience providing addiction counselling. Serenity is a small rehab, intentionally so. It has no more than 10 clients in primary care, and 10 clients in secondary care at any one time. Serenity has a very effective small group treatment programme, that also includes 1-to-1 counselling sessions. Addiction treatment, counselling, detox (prescriptions not included), accommodation, healthy meals, exercise options, and local excursions are all included in the treatment fee.

Copyright (C) Serenity Rehab. All rights reserved. Used with permission.
Serenity's location in Chiang Rai is secluded, yet close to International flights, via the Chiang Rai international airport (CEI). Flights to and from Bangkok are about 1 hour 20 minutes, and there are dozens of flights each day. Serenity is located about 25 minutes from the airport.
For mor information go to www.rehabthailand.com
---
Safehouse Rehab Thailand
Before joining a second-stage facility such as Hope House, many clients would require, and benefit immensely from, attending a primary  facility such as Safehouse Rehab Center. Situated in a quiet, traditional Thai town (pop 50,000), South of Bangkok on Thailand's Eastern Seaboard, we can recommend SafeHouse as a first class facility. SafeHouse is only 50km from Hope House and come to visit for a self-help group once a week.
Clients each have a very nice, private one-bedroom condo with balcony and cable tv, and facilities include a  water park, steam room, sauna and pingpong suite for relaxation, and terrific fitness, badminton and other sports facilities for when they are feeling better.
Clients can undergo full detox if required , and then take part in a very eclectic programme of group and one-to-one psychotherapy, lectures and written assignments, introductions to appropriate self-help groups, and relaxing, nurturing complementary therapies such as acupuncture, massage, and reiki. Weekdays are reasonably intense, while Saturdays and Sundays are less so, with one half-day and one full day excursion per week. The daily prograame is delivered in a purpose-designed 400 sq m adjacent facility.
The general idea is to painlessly get clients free of the drugs on which they depend, gently delve into their issues and fears, and show them that living without chemicals coarsing through their veins is not only possible, but highly advanntageous. SafeHouse will give clients their lives back, and after 30, 60, or maybe 90 days (up to the client), send them on their way into a new phase of recovery. Some will return home, some will go back into the wide world, but many will choose to attend a second-stage facility like Hope House.
The SafeHouse clinical staff are very well qualified and highly experienced in delivering effective rehabilitation. The team consists of a Treatment Director, Clinical and Programme Manager, Senior Therapist, Counsellors and Support staff. Safehouse have on-site nursing facilities, and a close affiliation with Aikchol Hospital in Chonburi City for detox drug prescriptions, dental and other services. All catering is freshly prepared in-house, and laundry and condo cleaning is done twice a week.
SafeHouse is a primary care facility delivering an essential programme from detox and beyond. Many come to SafeHouse post detox. This is in many ways better, as the client is then immediately receptive to the SafeHouse programme without the detox fog! Either way, everyone at SafeHouse will treat all clients with respect, dignity, tolerance and understanding. Addicts and alcoholics need this consideration to start getting better! And to top it off, The SafeHouse fee rates are very competitive.